What is Conductive Paint?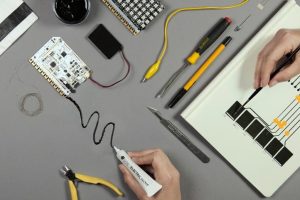 Electrically conductive paint is created by mixing a conductive pigment into a non-conductive resin binder. Adhesion comes from the binder that holds the paint together, and conduction is formed from the filler pigment. Electrical charges move through the conductive fillers and work best when they are highly concentrated, shaped like flakes or tubes. Spheres are not ideal but can provide increased conductivity with flakes.
Fillers used in electrical conductivity vary by corrosion resistance, morphology, and price. Some conductive paints are pigmented with the following:
Branched carbon powder: The most cost-effective filler, carbon is tiny enough for grounding and RFI shielding.
Silver-coated-copper flake: Silver offers the highest conductivity and greatest shielding capabilities, particularly in high-frequency EMI applications.
Nickel (coated copper) flake: Offers a broad range of EMI/RFI shielding.
Silver (silver-coated copper) flake: Especially effective in higher frequencies but does not resist corrosion as well as the other pigments.
The choice of filler can significantly impact the shielding effectiveness and coating conductivity. While binding systems can vary immensely, they determine adhesion, durability, and chemical resistance of the coating, along with application method, working time, and the number of components.
Conductive paints are typically formulated with solvent-based acrylic, water-based epoxy, and urethane binding systems.
Conductive Paint Applications:
EMI/RFI Shielding
Prototyping and repairing circuits
ESD protection
Grounding surfaces
Galvanic corrosion resistance
Electroplating plastics
Types of conductive paint include acrylic, epoxy, water-based shielding, package and board-level shielding, ESD safe, spray paints, pens, and paint thinners.
J&P Electrical uses only top-quality paints and sealers during our refurbishing process.
J&P Electrical is a full-service electrical supply company. At J&P, we source contractors, end-users, and supply houses with new surplus, quality reconditioned, and obsolete electrical equipment. We also purchase a wide range of heavy industrial electrical equipment such as bus plugs, bus duct, transformers, circuit breakers, fuses, and switchboards. Call us at 877-844-5514 for assistance.
Written by the digital marketing team at Creative Programs & Systems: https://www.cpsmi.com/
Like this post? Share it!