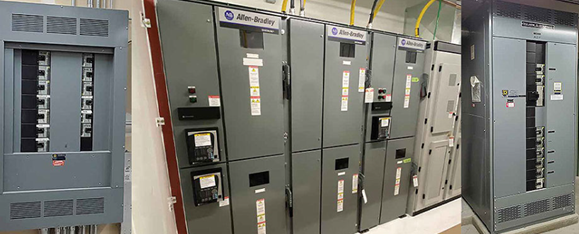 Most people don't tend to think about it until there is a problem, but the building's electrical system is so essential that it makes everything else possible. Electrical systems are a mystery to many, so few understand the general basics. Here, we introduce a little about panelboards, switchgear, and switchboards, just so you know, and perhaps help you in keeping things running smoothly.
Panelboards
Panelboards are usually found in commercial buildings due to their large size and the amount of power they can handle. They are designed for single-phase or three-phase applications, depending on your needs. The main function of a panelboard is to distribute power from the source to other devices in your building or facility through breakers designed for specific voltages ranging from 120 to 600 volts or higher, depending on your location. They are the most common circuit breaker box type and are always mounted to a wall. They are used to distribute power to an entire building or other areas. Panelboard covers protect these devices from damage by keeping them dry and clean while providing easy access for maintenance and repair.
Switchgears
Switchgears are used on larger projects, such as factories or warehouses, where there is a need for more than one circuit breaker or fuse within a single enclosure due to increased demand for power or space limitations. This type of equipment is also used in residential homes to automatically shut down the electrical system in the event of a short circuit or other malfunction. Switchgear is for individual components and is the largest of the three. It can be rated for up to 38 kV and run a current of up to 6,000 amps.
Switchboards
Switchboards are typically used where a large amount of equipment requires a lot of power to operate. These devices are designed to control the flow of electricity through multiple breakers without manually closing each one after every use. Like panelboards, switchboards are usually rated for up to 600 volts, but they can manage higher currents, up to 5,000 amps. Switchboards are floor mounted and covered with a panel to provide protection and easy access for maintenance and repair.
Overcurrent protective devices (OCPDs) are devices that send power from the source to the end user. These are sometimes simple devices like light bulbs, or sometimes they're massive systems that run entire buildings. The three main options for organizing, housing, and utilizing OCPDs are panelboards, switchboards, and switchgear. All three allow for easy access to your power needs in one way or another, but each has its pros and cons that you should consider.
At J&P Electric, we specialize in large industrial electrical equipment, from new surplus to hard to find/reconditioned to like new. Not sure we have what you need? Call us and find out!
J&P Electrical is a full-service electrical supply company. At J&P, we source contractors, end-users, and supply houses with new surplus, quality reconditioned, and obsolete electrical equipment. We also purchase a wide range of heavy industrial electrical equipment such as bus plugs, bus duct, transformers, circuit breakers, fuses, and switchboards. Call us at 877-844-5514 for assistance.

Written by the digital marketing team at Creative Programs & Systems: https://www.cpsmi.com/